Hello Friends,
As the uncertainty continues on throughout the world, Pumpkin Hollow Retreat Center carries on, certain that all we are doing here continues to make a difference energetically.
The four-resident staff meditate every morning together in the library at 9 a.m. in our usual tradition, sending out love and healing to the world and all its inhabitants.
We greatly miss the volunteers who normally and so generously partake of the Spring Into Action Work Weekends, as well as all the volunteers who help get us through program weekends and beyond. We are committed to maintaining and care-taking all areas of work activities - dedicated to planning together and sharing in cooperative action so that the spirit of the Hollow will shine, and is shining with love.
The four of us share deep cleaning of the cabins, kitchen and barn; raking grounds, picking up branches and sticks; trail clearing and cutting back briar bushes; and garden preparation including edging and tilling. The garden was also scaled back by laying down black plastic to prevent weeds in areas not to be planted this year and, of course, the greenhouse has many babies that daily remind us of the powerful new growth energy of spring.
Deborah Lee, a longtime Hollower, is our new cook and serves Saturday lunches that we eat outside (weather permitting) plus cookies. To honor all of the front-line workers, she and Carolyn blow the conch shell evenings at 7 p.m.
We enjoy hearing from you – please keep in touch. You can check out our Facebook page for news and photos.
Also, if you didn't receive our mailed annual Newsletter, you can view it here.
Sending good will to all from the Heart of the Hollow.
Namaste,
Carolyn, Cindy, Collins and Deb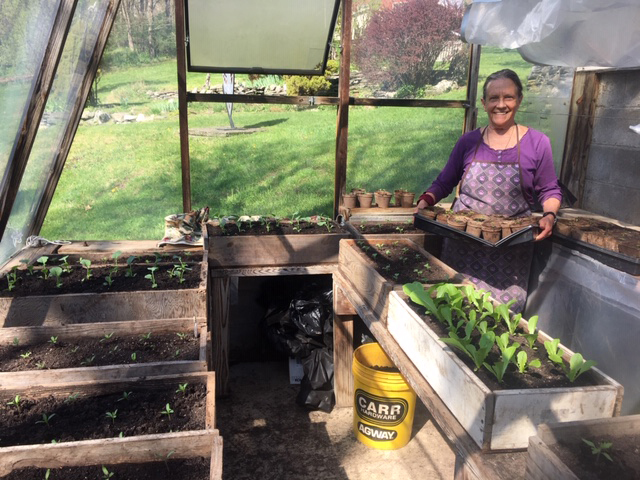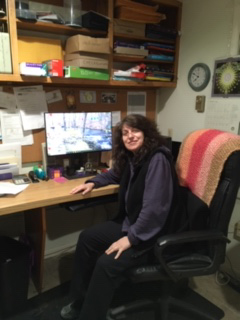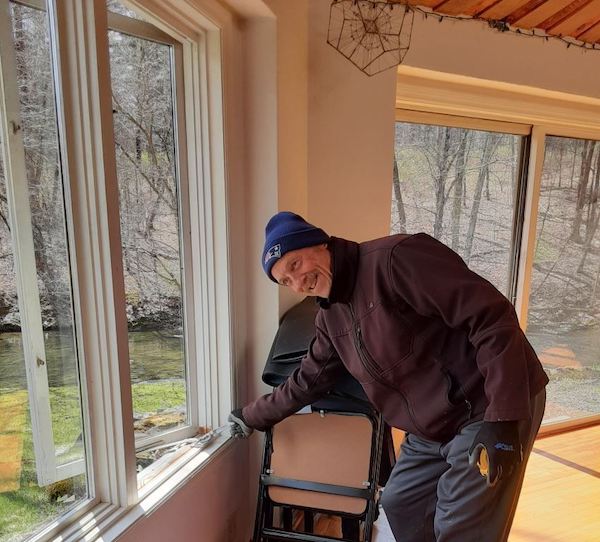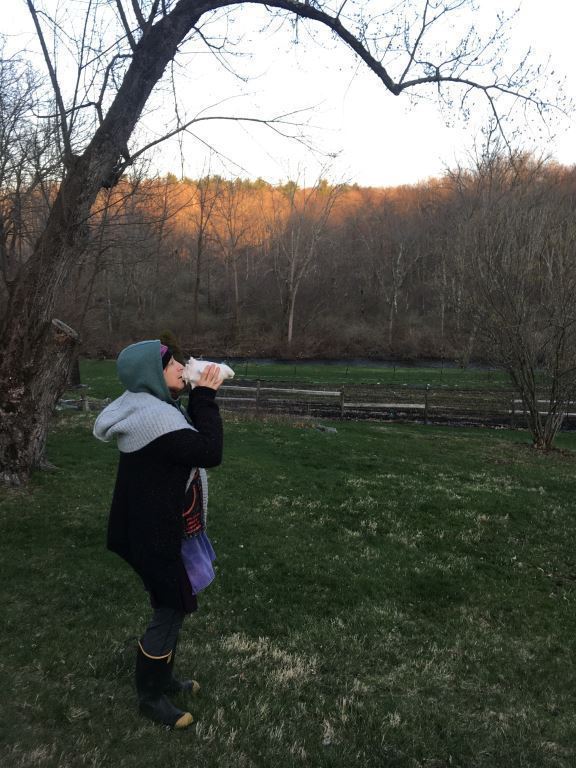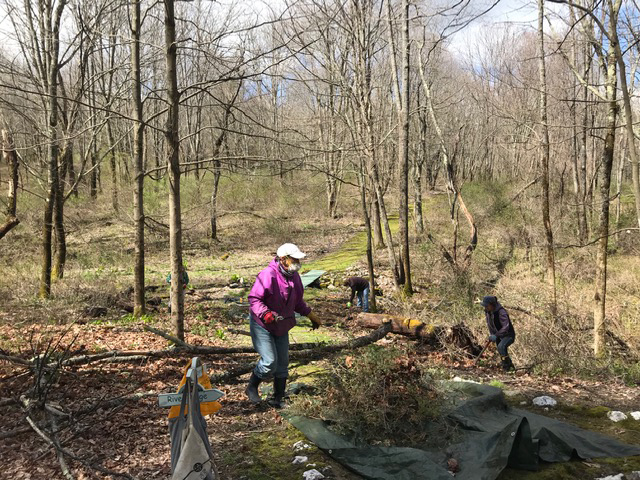 ---
Dear Friends:
May 1-3 would have been Pumpkin Hollow's Spring Meditation Retreat, but this year we were inspired to try something new. We invited you to join us for a shared experience of Pumpkin Hollow community, coming together when we cannot be together at Pumpkin Hollow. The meditation format below can be done at any time you want to make a deeper connection to the Hollow, yourself, and the rest of the world.
Given the extraordinary times we are living in, we are inviting you to join with us four times this weekend from your homes in song, contemplation, and meditation.
The staff will be in the meditation center. Join us…
Friday May 1st at 7 pm
Song: Dona Nobis Pacem click here for a YouTube link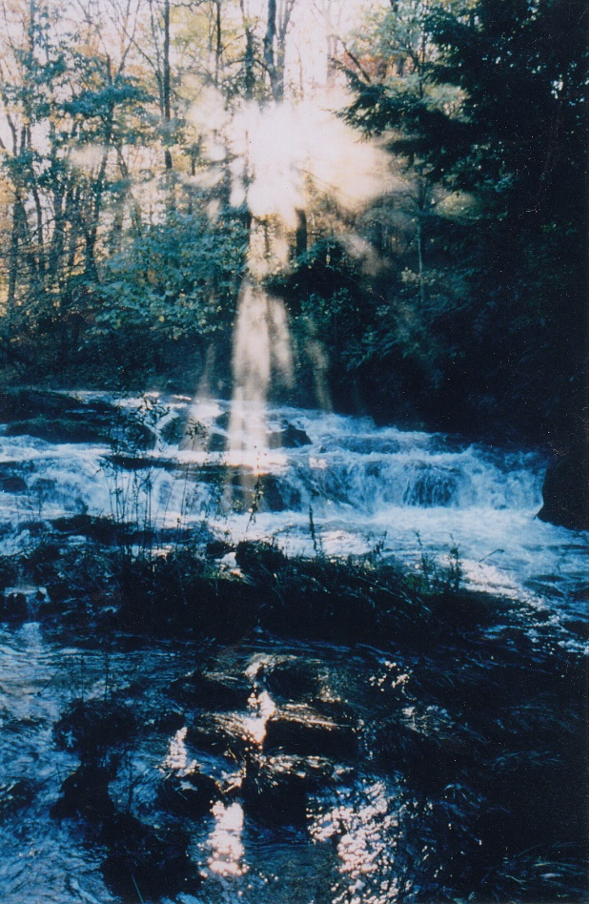 The photos can serve to help us connect to the beloved grounds and atmosphere of the Hollow.
Meditation #1: Quiet with a Sense of Flow.
Quiet with a sense of Flow. Dora Kunz, one of the founders of Pumpkin Hollow and of Therapeutic Touch who led meditations at the Hollow from 1937 through the late 1990s encouraged a sense of an energy flow with the use of imagination and connecting through the senses to nature's beauty, harmony, and order.
Meditation Guidelines:
Quiet with a Sense of Flow—a few breaths with no timed sequence.
Follow your inner rhythmic flow.
Expand your consciousness to feel harmony with the group (all of us tuning in!). Feel welcome, feel our unity.
Expand your consciousness out to the Beauty, Harmony and Order of Nature – remember the stream's rhythmic flow, hear the birds, visualize sitting by the waterfall, at the labyrinth, walking the moss covered pathways, leaning against a pine tree full of vitality.
Within this spaciousness of being attuned to a greater whole; we are able to attune to the sense of peace, our Inner Self abides in a flow of within and without. The background of our daily lives.
As a group we send forth Goodwill and Peace to the world, radiance from the Heart of the Hollow.
Closing the meditation- 3 Oms–ring a bell–smile or sing a song.
Saturday May 2nd at 11 am
Song: Be Still and Listen (Chant softly or sing if you know the melody).
Be still and listen, till only one voice can be heard.

Be still and listen, to one song, one word.

Be touched and be healed, receive the light, hear the sound.

Be touched and be healed, receive the love that is all around.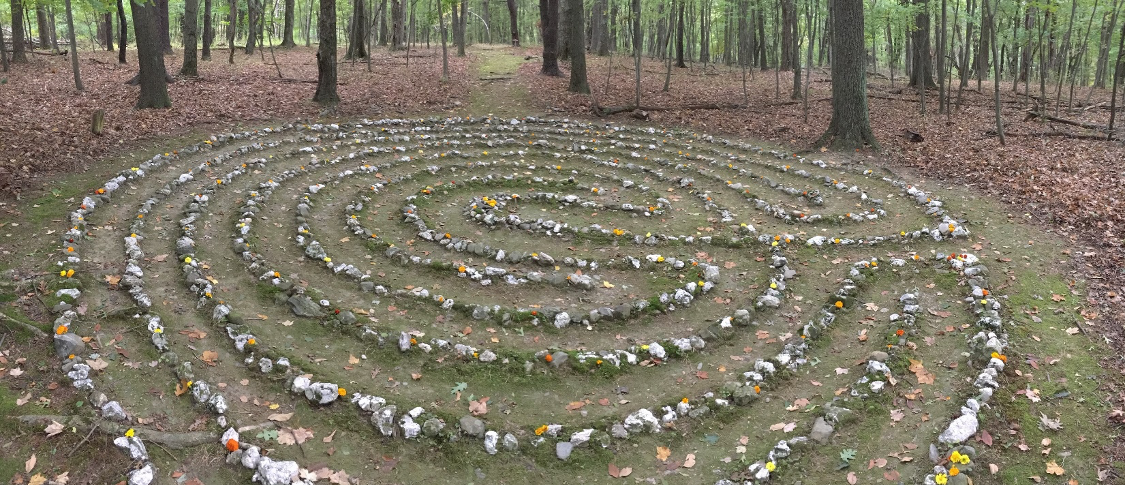 Meditation #2:
Use Dora's Guidelines (above) and contemplate the following:
"The Inner Self is the one constant amidst the shifts and struggles of our life. The Inner Self will touch others and is always at peace." –Dora Kunz
Saturday May 2nd at 7pm
Song: Open My Heart (Chant softly or sing if you know the melody).
Open my heart,
Let love pour through me.
Center my Soul
Upon the Path of Peace
Make of my life
A melody of Love
Singing Alleluia, Alleluia, Alleluia!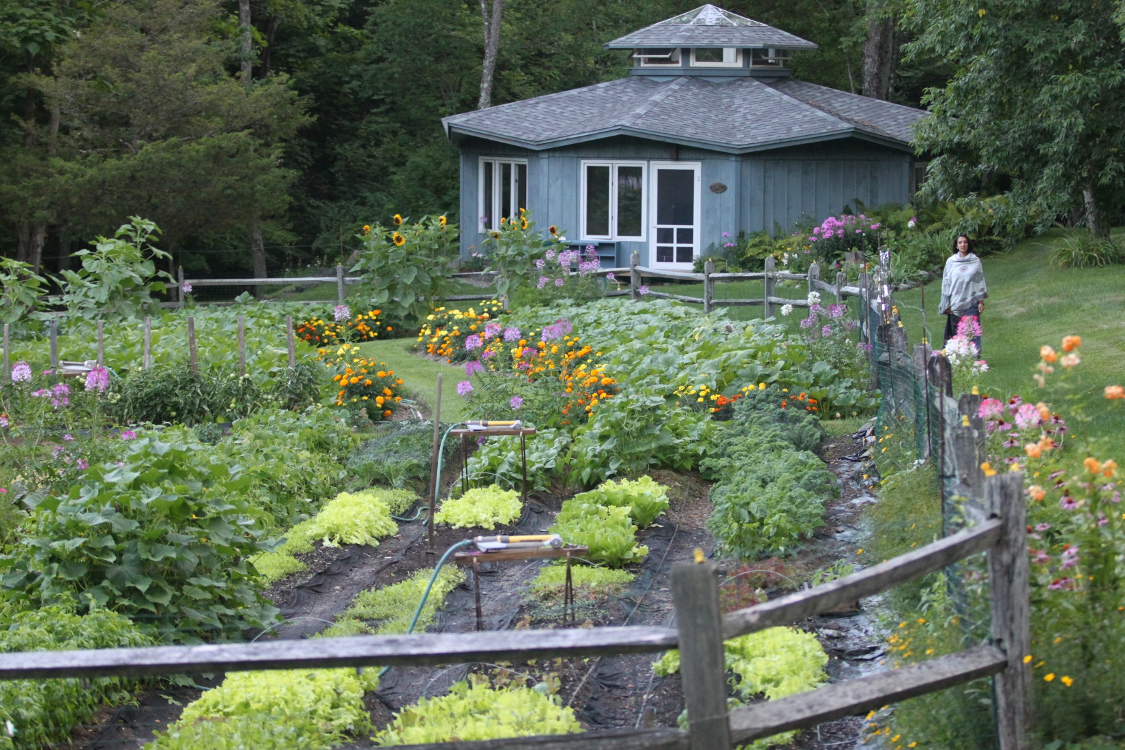 Meditation #3:
Use Dora's Guidelines and contemplate the following:
"We must be still and still moving
Into another intensity
For a further union
A deeper communion."
–T.S. Eliot
Sunday May 3rd at 11 am
Song: I Walk in Beauty (Chant softly or sing if you know the melody).
I walk in Beauty
Beauty is before me Beauty is behind me Beauty all around me
I walk in Beauty
Beauty is above me Beauty is below me Beauty dwells within me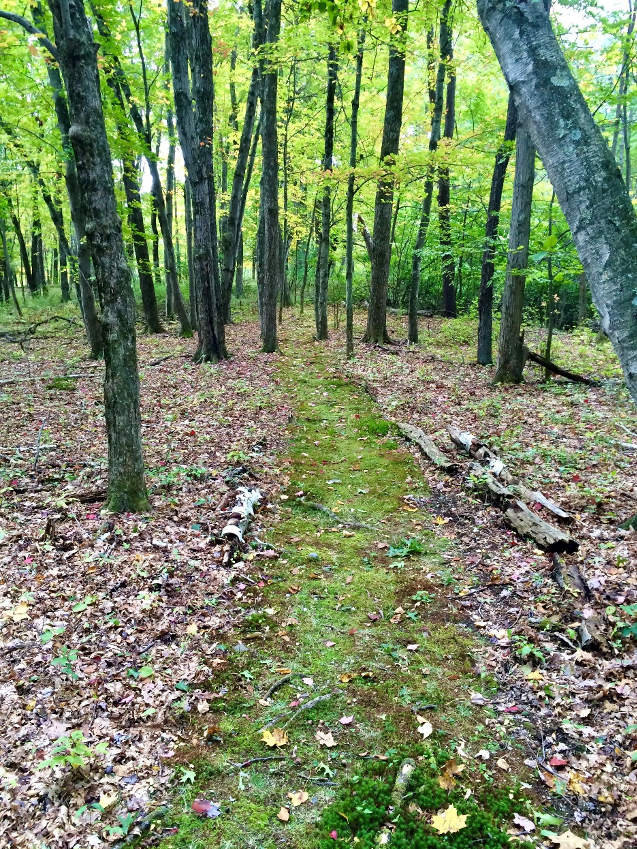 Meditation #4:
Use Dora's Guidelines and contemplate the following:
"There is a place that is power and strength within ourselves, this is the permanent part and through that center there is a flow of energy that is whole and cleansing for ourselves and helpful to the world." –Dora Kunz
Closing:
Song: Dona Nobis Pacem
Servimos con Amor
Radiance to the World
A Cushion For Your Head (by Hafiz)
Just sit there right now
Don't do a thing
Just rest.
For your separation from God,
From love,
Is the hardest work
In this
World.
Let me bring you trays of food
And something
That you like to
Drink.
You can use my soft words
As a cushion
For your
Head.
Facebook: Share your experiences on our Facebook page so we can hear from each other.
Namaste,
The Pumpkin Hollow Staff