Foundations of Therapeutic Touch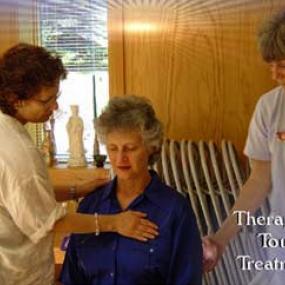 May 26-28, 2023 Friday dinner through Sunday lunch
Taking a course at Pumpkin Hollow, the birthplace of Therapeutic Touch is unique. It is within this pristine natural setting that Dora Kunz and Dr. Dolores Krieger, PhD, RN first created the Therapeutic Touch Process, developed from their studies of ancient healing practices. Therapeutic Touch is currently taught and practiced worldwide.
"Therapeutic Touch is a holistic, evidence based therapy that incorporates the intentional and compassionate use of universal energy to promote balance and well being." Therapeutic Touch International Associates (TTIA).
At the completion of this 12 hour course, the participant will have learned the foundational concepts, history and technique of Therapeutic Touch. Through discussion, demonstration and practice, each participant will have an opportunity to learn and use each phase of the process. By the end of the course the participant will be able to understand the underlying principles of and have the skills to provide Therapeutic Touch. The faculty to student ratio allows for personal attention with an emphasis on hands on practice.
The atmosphere at Pumpkin Hollow is ideal for the contemplative nature and spiritual aspects of Therapeutic Touch and supports both healing and learning processes.
Based on the assumption that human beings are complex fields of energy, Dora and Dr. Krieger saw that the ability to enhance healing in others is a natural human potential and one that could be taught to anyone who has a desire to help and promote healing in others or themselves. Therapeutic Touch is used to balance and promote the flow of human energy. Research has shown that Therapeutic Touch is effective in reduction of pain and anxiety, promotion of a relaxation response, facilitation of the body's natural restorative process (enhancing the immune system and promoting wound healing).
All Therapeutic Touch Programs at Pumpkin Hollow are taught by Qualified Therapeutic Touch Teachers (QTTT's) and follow the Krieger-Kunz method and the guidelines developed by Therapeutic Touch International Associates (TTIA), the international organization of Therapeutic Touch.
Room and Board:
- Single room $320
- Double room $260
- Dormitory: $230*
*Dormitory rates are only available when there are 3 or 4 people in a room. If there are not enough dormitory requests, it will not be available.
Program Fee: $80.00 plus Room and Board.
Facilitator Information:
Holly MSN, APRN-BC, QTTT The Foundations Level Programs are taught by Qualified Therapeutic Touch Teachers (QTTTs). The Foundations Level Program taught by a QTTT is a prerequisite for the Transpersonal Level Program and application to become a Qualified Therapeutic Touch Practitioner (QTTP). All QTTPs and QTTTS are qualified by the credentialing arm of Therapeutic Touch International Association (TTIA).
Contact Name:
Pumpkin Hollow Retreat Center